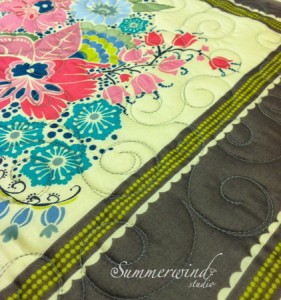 Hand-guided longarm quilting services available at Summerwind Studio.
2014 basic prices:
Edge-to-edge meandering: $0.015 per square inch
Edge-to-edge starting at: $0.0175 per square inch
Semi-custom: $0.020 per square inch
Custom starting at: $0.030 per square inch
To get an estimate on your quilting project, contact Stephanie at summerwindstudio@gmail.com.
Photos of our custom work can be found in the Gallery. Please visit the pantograph page to view pantographs we have available in the studio.
Click here for tips on preparing for quilt top for longarm quilting. Threads are  not buried. If you want them unclipped for you to bury, just let us know.