I love a challenge, and I especially love the Modern Quilt Guild challenges. Be it national, or local, the MQG challenges always get me motivated to make something nifty. Personally I use it as a great excuse to make something for myself. For this challenge, Riley Blake Designs provided fat eighths from their Basics category. The guidelines were simple: make something quilted. It was not a requirement to use all the fabric provided, and there was an option add in any solids or Riley Blake printed fabric.
I purchased some "Happy Hexi" fabric from Riley Blake, which matched nicely five of the six fabrics we were provided. I also added solid gray and aqua. Drawn to "Happy Hexi," I decided I wanted to include hexagons in some way.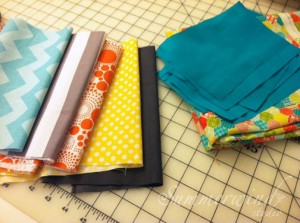 After letting the fabrics simmer in my mind, I started sketching some designs.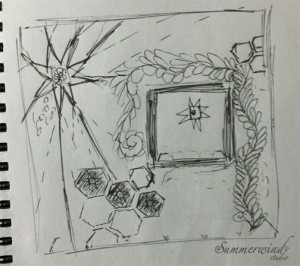 Using an AccuQuilt GO! Baby, I cut out the hexies from the provided fabric and sewed them onto the gray background. I drew out a grid for the wonky star, with the "Happy Hexi" fabric in the center. I knew I wanted to echo the star in the negative space and drew in the points with chalk.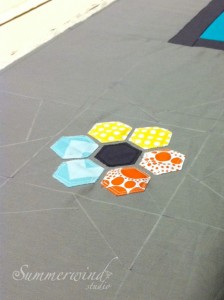 Then I quilted the points, mimicking the printed fabric in the completed wonky star: chevrons, polka-dots, stripes. As the wonky star has printed hexies in the center, I created a hexie flower in the center of the echoed wonky star.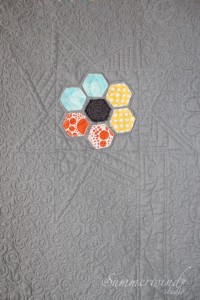 My favorite fabric is the orange dots. I like the contrast of the orange on the white, and the varied sizes of the dots. I used more of that fabric than any of the other Basics. To provide some visual interest, I shifted one of the hexagons down, and then used quilting to echo the fabric in the top spot of the hexie flower. I liked how the solid aqua grounded the movement in the surrounding hexagons.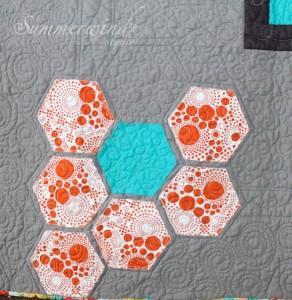 When designing the quilt I wanted to include negative space to really frame the Basics fabric with quilting, and provide substaintial movement. I wrapped feathers around the squared-off wonky star, and varied the size of the swirls used throughout the quilt.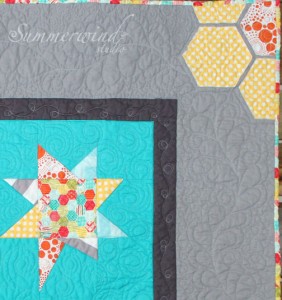 I had a great time with this challenge, and it was a fun quilt to make. In Kansas City we had our challenge reveal in December, and as always, our members had creative, beautiful and inspiring projects for show and tell. I can't wait to see all the projects from other guilds. A big thank you to Riley Blake Designs for sponsoring this challenge.